The design process follows the stages outlined below. It is adapted to suit client requirements and the scope of the project. It is an exploratory exercise and we encourage clients to fully participate at every stage.
Through listening, understanding and reflecting we aim to realise and exceed your aspirations for your garden.
Process I
Consultation and Initial Stage
Initial onsite consultation to assess the site, establish the scope of the project, timescale and budget, its potential and constraints.
This meeting is also an opportunity to establish a relationship with the client to develop a sense of your style and aspirations for the site and to explain our approach.
There is no charge for the initial consultation unless it requires substantial travel.
The first consultation forms the basis of the fee proposal and informs the brief.
Initial Stages once a fee is agreed:
Topographical survey (if required), including buildings, levels, utilities and existing features.
A site visit to further analyse site conditions: architecture, history, context, location, orientation, soil and weather.
Process II
Concept Design and Masterplan
Designing a garden or landscape is very much a 'process' of discovering what you want, need or is within budget. Concept designs are developed in full consultation with clients and any ideas, additions or exclusions to the brief can be incorporated along the way.
The concept design develops the initial ideas for the project: the spatial arrangement of elements e.g. terraces, planting and structures, paths, the flow around the site, how different areas relate to and connect with each other and the house (or buildings).

Meeting with client to present and develop initial ideas, including materials, budgets, timescales.The concept design is presented in the form of plans, sketches, or visualisations.

The concept design begins to establish a sense of place and atmosphere as well as outline the functional elements of the design.

Further meeting with client to review changes.

Developing the design may include collaboration with architects, blacksmiths, stone masons, tree surgeons, engineers, planners or other specialists.

The masterplan outlines the finalised design in plan and illustrations, including detail (where appropriate) on terraces, planting, structures, water features and lighting.

Masterplan and any supporting documents are sent to the relevant planning authorities (if required).

The design stage can often take longer than clients expect. It is when ideas are tested and finetuned and it is critical development time.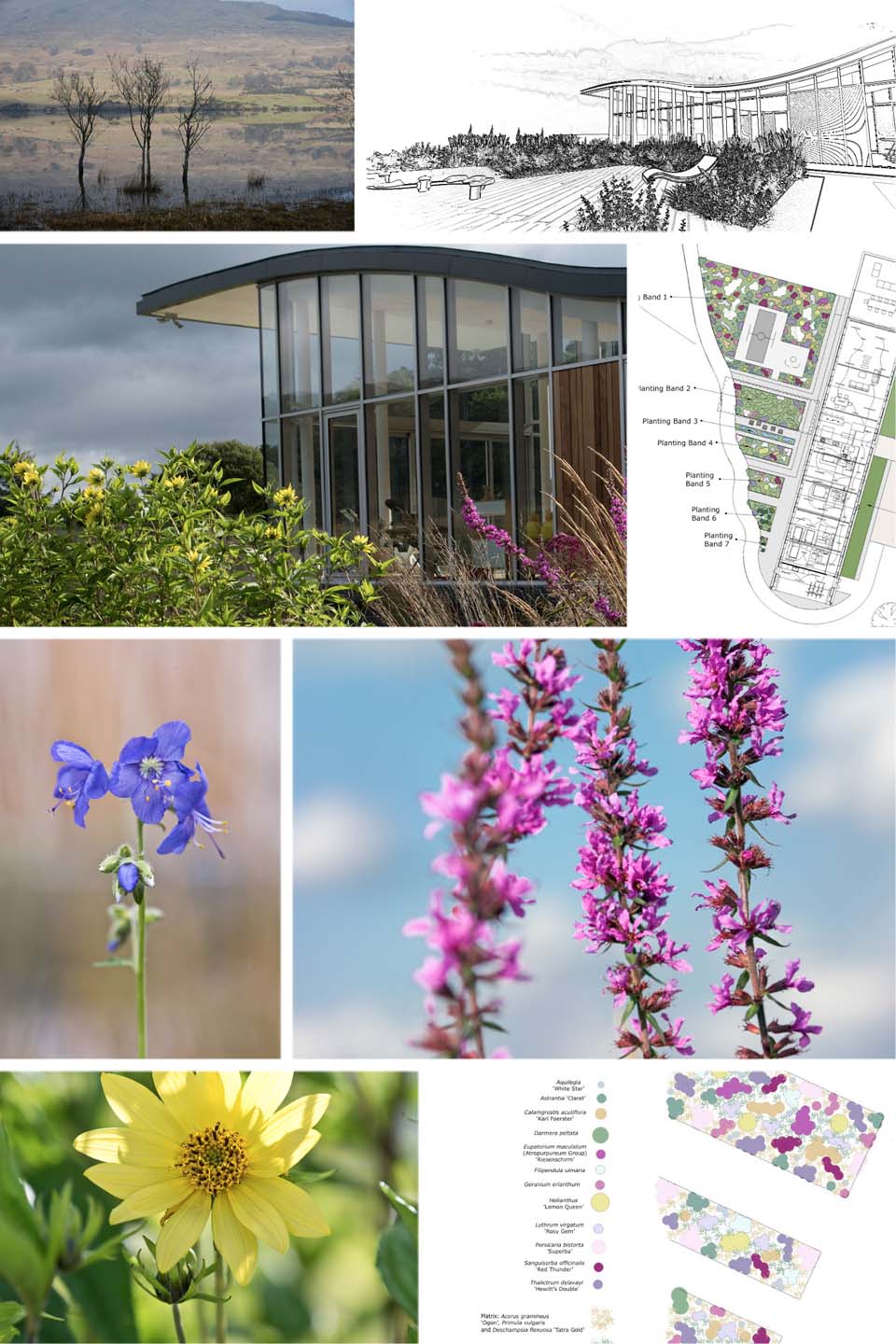 Process III
Planting Design and Planting
Our sustainable approach to planting is informed by the behaviour of plants in their natural environment, using the right plants in the right place. This understanding enables us to design plantings that perform throughout the seasons/look beautiful and reduce the need for maintenance and external inputs. 
Plants are selected on the basis of their suitability, four-season interest, client preference and ability to create a sense of place, atmosphere and style.

Planting plans are developed with a skilled understanding of the long-term behaviour of plants, their soil, light and growing requirements, as well as how they associate with each other.

Plant schedules include details of quantities, costs and availability.

Plant sourcing: we work closely with specialist nurseries and growers – using local suppliers wherever possible. This ensures our planting designs can be delivered on time, using sustainable, healthy plants suitable for local growing conditions.

Site preparation and tree works: we also work closely with landscape contractors who specialise in large and small scale soft landscape projects.

Setting out key plants in the garden: positioning plants and trees prior to planting is key to achieving the best outcome, wherever possible this is something we do ourselves.

Planting: where we can we participate in the planting. We also bring in the above mentioned landscape contractors to fulfil planting.

Maintenance plans: maintenance is a concern for all clients and it informs a key part of discussions from the start of the process. All gardens, even low maintenance gardens require some maintenance. We can provide clients with an ongoing maintenance plan and follow up consultation service.
Process IV
Tendering and Construction
Specification: detailed technical instructions on the execution of all works to completion.

These details include information such as materials, the scope of work, installation process, quantities and quality of work.

Construction drawings: detailed visual instructions on the execution of design elements, e.g. steps, walls, paving, garden structures, water features etc.

Setting-out drawings: show all the construction lines and dimensions for all hard landscaping elements. They enable the contractor to transfer the drawings onto the ground.

Identify and invite contractors to tender.

Review tender submissions and timescales with client.

Project oversight: co-ordinating contractors, attend site at agreed intervals to inspect and advise on progress, resolving issues that arise on site, sign-off of completed works.
Commercial and public sector projects follow the Royal Institute of British Architects (RIBA) Plan of Work 2020.
For any additional questions we are here to help.